Products
Pure silicone and engineering ceramics for SLA 3D printing
Formlabs introduces 2 innovative SLA 3D printing resins, expanding the already wide range of materials available, paving the way for new additive manufacturing applications.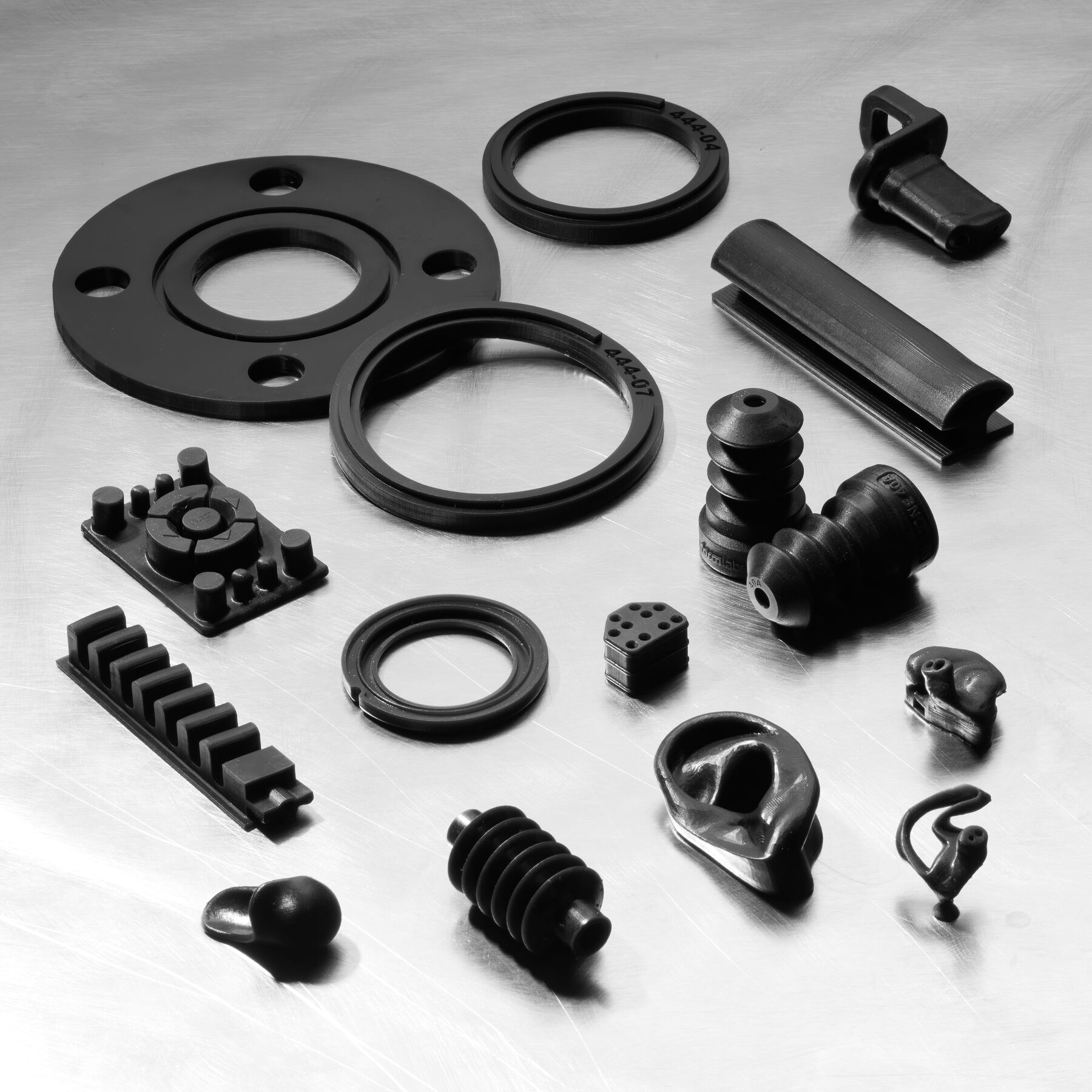 Silicone 40A Resin
Silicone 40A Resin is the first 100% silicone resin for 3D printing. This resin eliminates time-consuming, costly and labor-intensive molding and casting processes. Silicone 40A Resin from Formlabs uses Pure Silicone Technology, a patent-pending technology, to print, directly in your business, pure silicone parts within hours.
This Shore 40A hardness material enables soft, flexible and strong parts with an elongation at break of 230% and a tear strength of 12 kN/m to withstand repeated cycles of elongation, bending and compression.
Combine the high performance of silicone with the design freedom of additive manufacturing to create highly functional silicone parts with excellent chemical and heat resistance (-25 °C to 125 °C), precise details as small as 0.3 mm, and complex geometries impossible to achieve with traditional methods.
Silicone 40A Resin components are ideal for the following applications:
Rapid prototyping, beta testing, and product development cycle validation steps for elastic consumer goods, automotive components, and industrial equipment such as connectors, grommets, actuators, keypads, and straps.
Cost-efficient production of low volume or custom parts for indoor end use, such as gaskets and seals.
High-quality, long-lasting custom equipment and production aids, such as flexible casting molds, jigs, fixtures, and masking tools.
Medical device components, patient-fitted prosthetics, and audiology applications.
Parts with complex geometries that are difficult to produce by traditional methods.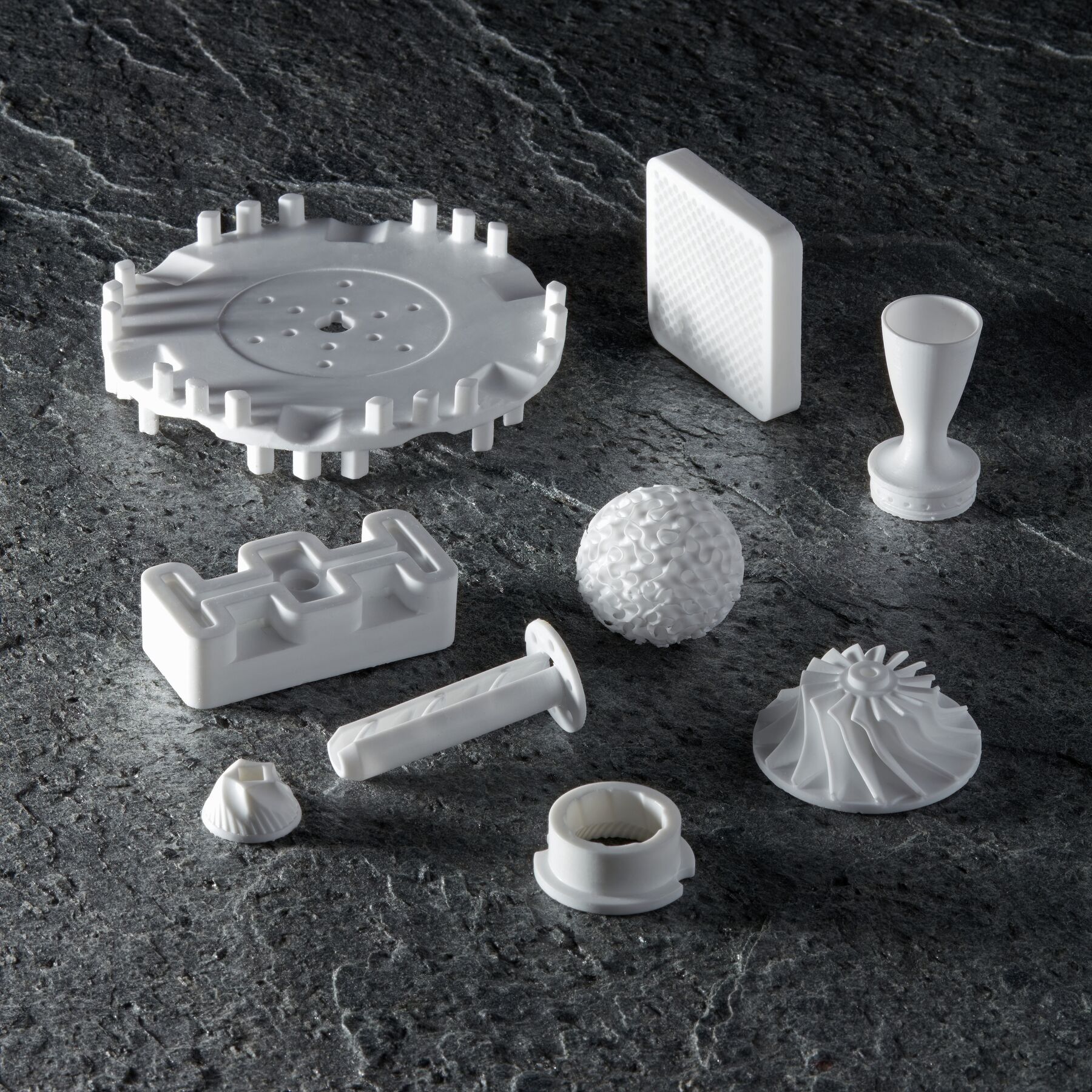 Alumina 4N Resin
The new era of high-performance engineering ceramics begins with Alumina 4N Resin. Formlabs' Alumina 4N Resin is a high-performance engineering ceramic with 98.6 percent relative density and 99.99 percent purity for outstanding results in the most extreme environments. Alumina 4N Resin is heat and abrasion resistant, tough, mechanically robust, and chemically inert, for exceptional performance in the most extreme environments at an affordable price.
Traditional methods of manufacturing ceramic parts include expensive casting, pressing or injection molding processes. These work steps are often outsourced to specialized suppliers and require specialized tooling and expertise. Engineers and manufacturers who need only a few ceramic parts are constrained to a price and process that become cost-effective only at high volumes.
Applications for Alumina 4N 3D printed parts
Technical ceramics are commonly used in all areas that require extreme thermal, chemical or electrical resistance, such as:
high voltage applications
thermal protection parts
foundry equipment for metal casting
custom casting molds and furnace components
Functional prototypes requiring high thermal, chemical or electrical resistance
Want to learn more about these new materials and SLA printing technology?
If you would like to learn more, please fill out the form. You will be contacted by one of our 3D printing experts.
Contact Us