7 key advantages of 3D printing for end-of-line automation. The TMG case
Custom parts within shorter lead times to meet customer requirements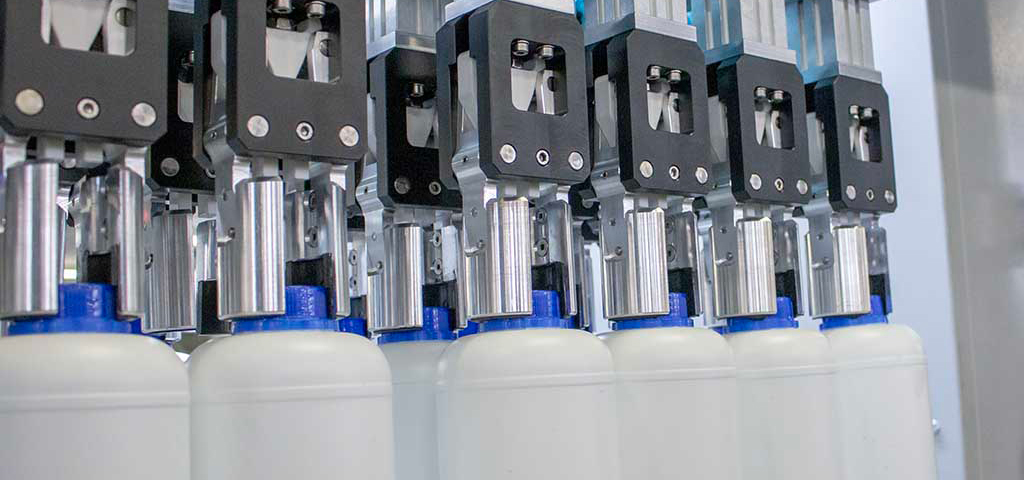 THE COMPANY
TMG impianti is a company based in Veneto, Italy, that has been designing and manufacturing customised end-of-line automation solutions for various sectors for over 45 years.  
The end-of-line machines allow finished products to be picked and placed on pallets or in boxes so that they can be to be moved and stacked more easily in the warehouse. By automating this activity, which was previously done manually, the product handling and packaging process can be speeded up considerably. TMG's machines can easily be adapted to the features of the product to be handled. The fact that TMG works for the automation of numerous sectors has allowed it to become closely acquainted with the specific demands and needs of various industries. 
THE NEED
How to have customised parts in the shortest possible time?
The high and increasing variety of products to be handled in ever shorter timescales has led TMG to the need to look for different solutions in order to continue to satisfy its customers .
"We produce upon order, and to meet our customers' demands, we have been driven to change our design process and explore new production forms. We are an official supply partner of some multinationals in our sector and we had requests that we could no longer respond to through traditional techniques, mainly because of the flexibility and rapidity that was required".
"We have 45 years of history and 1000 plant installations. Ours is a durable asset with an average lifespan of 20-25 years. We design and programme, and all of that is handled in-house."
"Being able to offer customised machinery components in the shortest possible time to cope with the great variability of objects to be handled has become a must," says Andrea Dolzan, COO, Director of Operations for TMG Impianti. For TMG, it was therefore necessary to reduce both the prototyping time and the actual production time of the end-use part.
"Then, during the Covid period, another particularly important demand was for spare parts for the machinery, given the unpredictable timing of the supply chain.
TMG also needed to:
Be able to design and manufacture very complex geometries.

Simplify elements composed of several parts.

Reduce the weights of moving parts to improve automation performance.
THE SOLUTION
3D printing with fibre reinforcement 
In light of these requirements, TMG began to consider using 3D printing alongside traditional manufacturing. In 2019, it began its journey into the world of Additive Manufacturing by exploring new manufacturing technologies.    
In early 2020, TMG turns to 3DZ to have the first 3D printed prototypes manufactured and then tested. From the second half of the year, it already started installing 3D printed parts as end-use elements in its automation plants.   
In 2021, it decided to internalise 3D printing, choosing, with the support of 3DZ, Markforged's X7 printer with CFR filament printing technology. 3DZ then took care of the machine installation and staff training.   
The strength of Markforged's X7 printer is its ability to print components reinforced with continuous Carbon Fibre, Kevlar, Glass Fibre and High Temperature Glass Fibre. The use of these fibres offers the possibility of obtaining parts as strong as aluminium but with a much lower weight.   
TMG makes equipment that has to handle heavy parts, and many components are exposed and not underbody. It therefore needed to provide its customers with parts that were extremely robust but also aesthetically pleasing. One of the main features of CFR printing technology is that it can produce components with continuous fibre reinforcement to achieve parts that not only have a very strong structure but also a very good surface quality. The X7 printer was therefore the most suitable choice.  
Given the numerous benefits obtained from the introduction of 3D printing in the company, in 2023 TMG decided to further expand its production potential in Additive Manufacturing, creating a new area dedicated to 3D printing in-house and, as one of the first in Italy, adding the new FX20 printer from Markforged. FX20 is the most powerful, fast and sophisticated printer with CFR filament technology.  
At TMG, this printer, capable of producing large, durable parts, is used to move faster and faster from prototype to end-use part on the machine and to push the boundaries of 'metal replacement', i.e. replacing metal or aluminium parts in its plants with lighter plastic components.   
The purchase of this new printer is part of a new, larger project: to significantly increase the production of end components and to use the printers 24 hours a day. With the ability to print large parts, TMG also plans to redesign not only the single component but several elements of their machinery.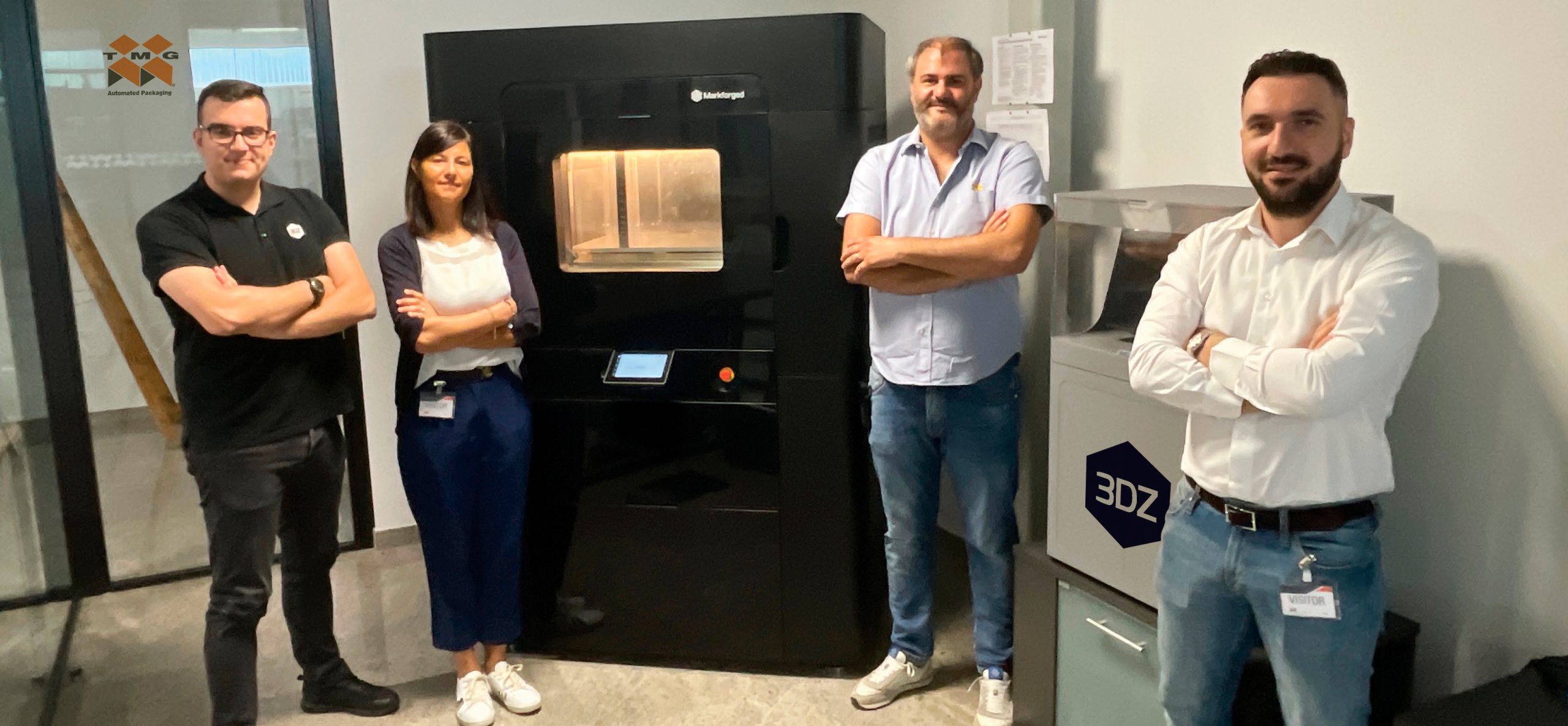 Support in selection and training
Why TMG chose 3DZ
"3DZ guided us in the choice of the right technology, supported us in carrying out the tests to understand the effectiveness of components produced by 3D printing," says Dolzan. "Later, after the installation of the printer, 3DZ provided us with a series of courses on Design for Additive and taught us how to redesign a part optimally for 3D printing: ad-hoc design allowed us to further reduce scrap material, lead times and part production costs. Improving the speed of response to our customers' requests has allowed us to win some very important orders,' he says.    
"Having a 3DZ office close by is essential in order to be able to confront each other at any time and to be able to intervene for any need. Moreover, 3DZ also supports us with its certified technical assistance service." 
THE 7 BENEFITS OF INTRODUCING 3D PRINTING
Since the introduction of Additive Manufacturing at TMG, the balance of printer utilisation and achievements is extremely positive:   
𝟭. 𝗠𝗔𝗫𝗜𝗠𝗨𝗠 𝗣𝗥𝗢𝗗𝗨𝗖𝗧𝗜𝗩𝗜𝗧𝗬
In just one year, the X7 printer made 1450 parts and printed 6500 hours. This is 75% of the hours available in a calendar year: TMG is a true example of using the 3D printer for continuous part production.   
𝟮. 𝗙𝗥𝗢𝗠 𝗧𝗛𝗘 𝗣𝗥𝗢𝗧𝗢𝗧𝗬𝗣𝗘 𝗧𝗢 𝗧𝗛𝗘 𝗙𝗜𝗡𝗔𝗟 𝗣𝗔𝗥𝗧
Going from the initial idea of using 3D printing for prototyping to using that prototype directly in production was a very quick transition.   
𝟯. 𝗣𝗥𝗢𝗗𝗨𝗖𝗧𝗜𝗢𝗡 𝗧𝗜𝗠𝗘 𝗥𝗘𝗗𝗨𝗖𝗧𝗜𝗢𝗡 (-𝟴𝟬%)
"We went from drawing a bottle by hand and making prototypes with cardboard, with not entirely accurate answers, to having a 3D printed part ready to test in a few minutes and that, if validated, we can send straight into production. Having a 3D printer in the company has made it possible to reduce production times considerably: the time for many parts has been cut by 80%. 
𝟰. 𝗜𝗡𝗗𝗘𝗣𝗘𝗡𝗗𝗘𝗡𝗖𝗘 𝗙𝗥𝗢𝗠 𝗘𝗫𝗧𝗘𝗥𝗡𝗔𝗟 𝗦𝗨𝗣𝗣𝗟𝗜𝗘𝗥𝗦
3D printing has enabled TMG to overcome the difficulties associated with the long lead times and procurement of raw materials in recent years and the unavailability or late delivery of suppliers of certain mechanical components. For example, it designed a pulley that was not available on the market, and then printed and produced it in-house using additive manufacturing.   
𝟱. 𝗢𝗣𝗧𝗜𝗢𝗡 𝗧𝗢 𝗠𝗔𝗡𝗔𝗚𝗘 𝗖𝗢𝗠𝗣𝗟𝗘𝗫 𝗚𝗘𝗢𝗠𝗘𝗧𝗥𝗜𝗘𝗦
The high variability of the products manipulated by TMG implants did not allow traditional technologies to achieve mechanisms that would guarantee a suitable grip.    
3D printing proved to be much more versatile, allowing TMG to create complex geometries and find effective solutions for even the most complex requirements.     
𝟲. 𝗥𝗘𝗗𝗨𝗖𝗘 𝗧𝗛𝗘 𝗡𝗘𝗘𝗗 𝗧𝗢 𝗔𝗦𝗦𝗘𝗠𝗕𝗟𝗘 𝗠𝗨𝗟𝗧𝗜𝗣𝗟𝗘 𝗣𝗔𝗥𝗧𝗦
TMG replaced parts previously composed of 4/5 separate parts, which were purchased from external suppliers and assembled with different machining, with parts moulded in one piece.    
Redesigning a complex part into a single element makes it possible to   
– reduce the barcodes to be managed   
– eliminate assembly operations by freeing up manpower   
– simplify all processes in both the purchasing department and logistics.  
𝟳. 𝗥𝗘𝗗𝗨𝗖𝗧𝗜𝗢𝗡 𝗢𝗙 𝗪𝗛𝗘𝗜𝗚𝗛𝗧𝗦 𝗔𝗡𝗗 𝗘𝗡𝗘𝗥𝗚𝗬 𝗖𝗢𝗡𝗦𝗨𝗠𝗣𝗧𝗜𝗢𝗡
Thanks to the extremely strong but lighter printing materials, TMG was able to achieve a 30 to 50 per cent reduction in the weight of the gripping equipment. 
This has also made it possible to reduce the installed power while maintaining productivity.    
FUTURE
"We strongly believe in the potential of 3D printing and are convinced that Additive Manufacturing is the technology of the future that will largely replace the most common manufacturing technologies.    
Another very important aspect for us is sustainability, which Additive Manufacturing is synonymous with, given the low amount of energy used in the process and the absence of waste material,' concludes Dolzan.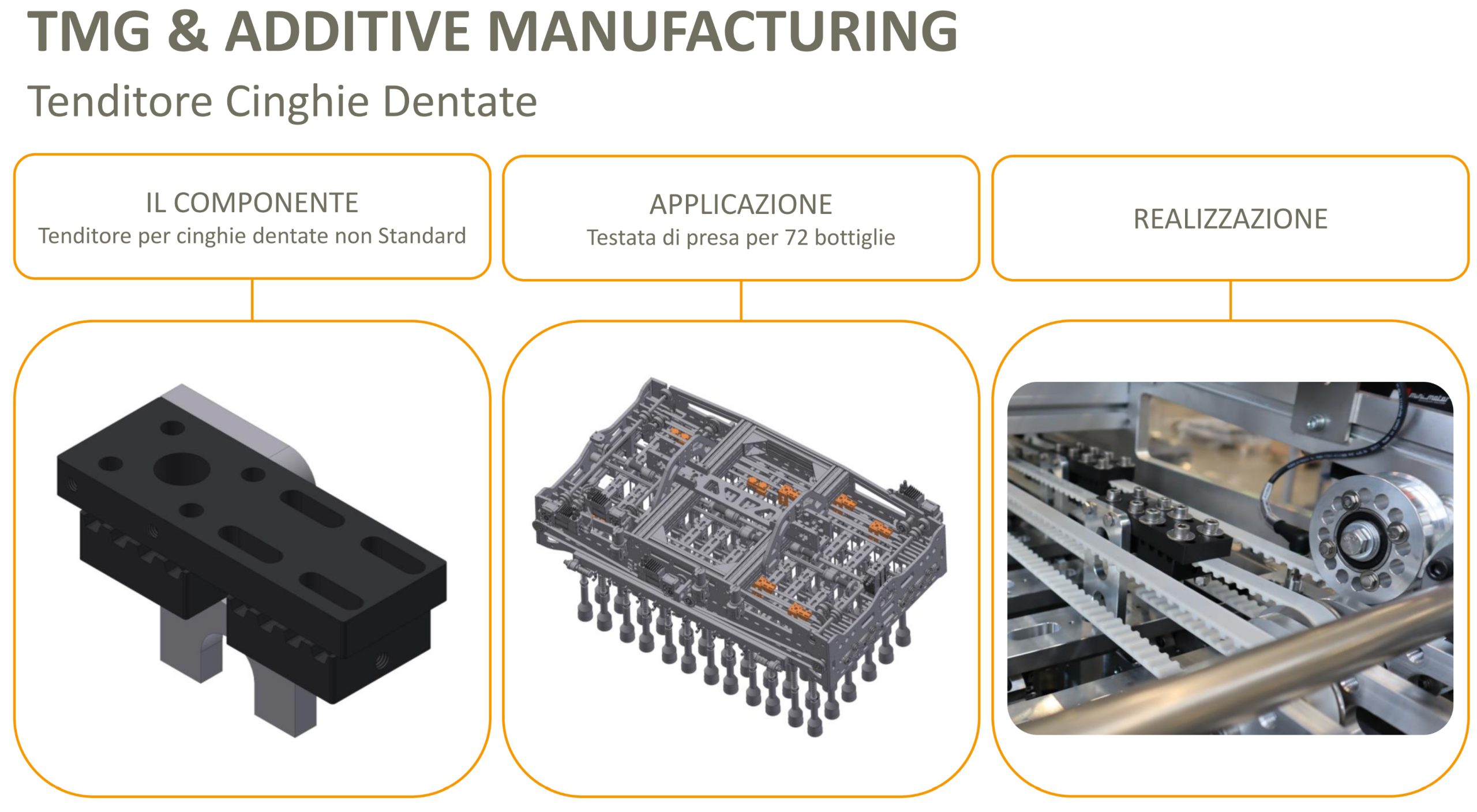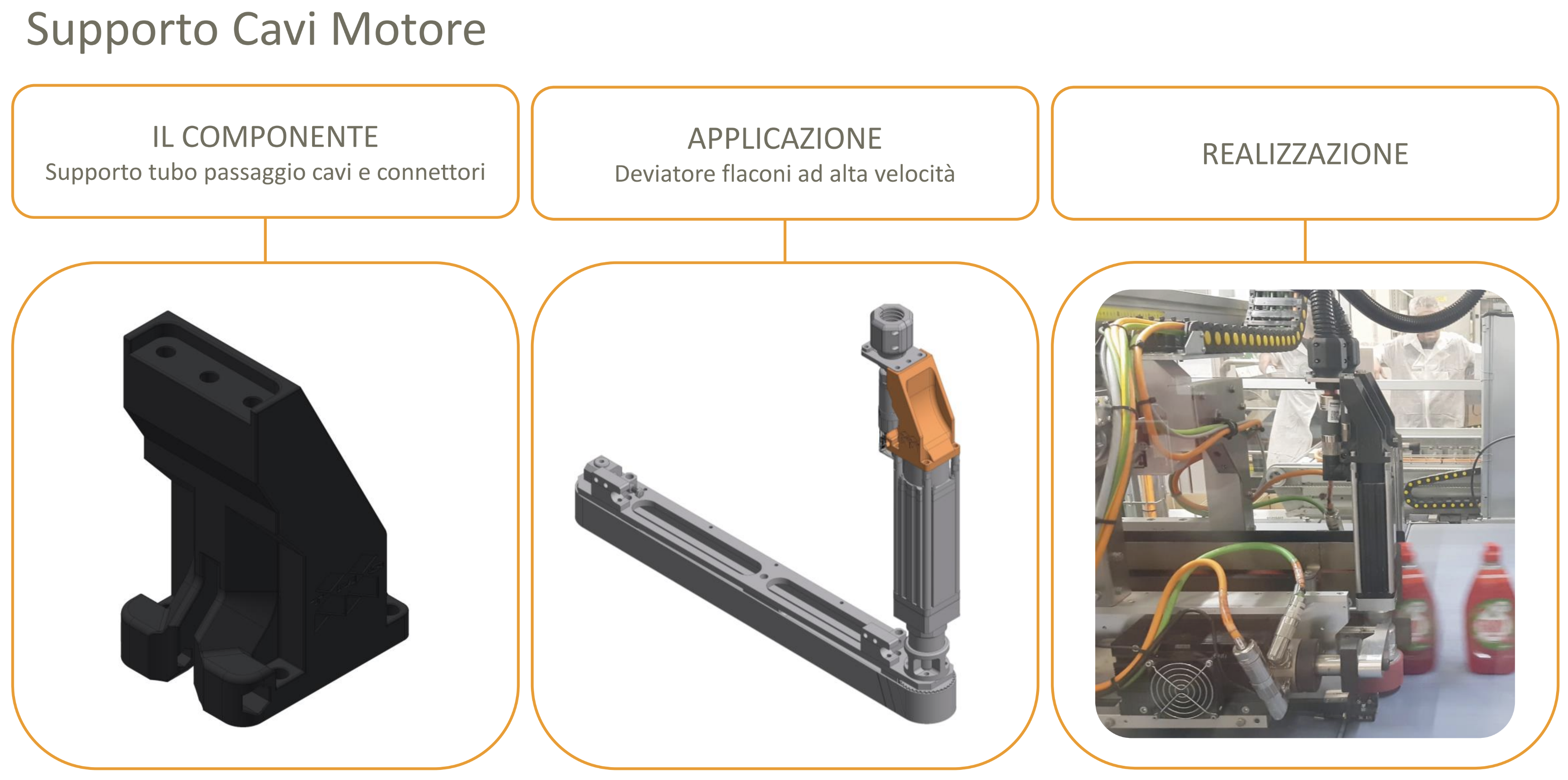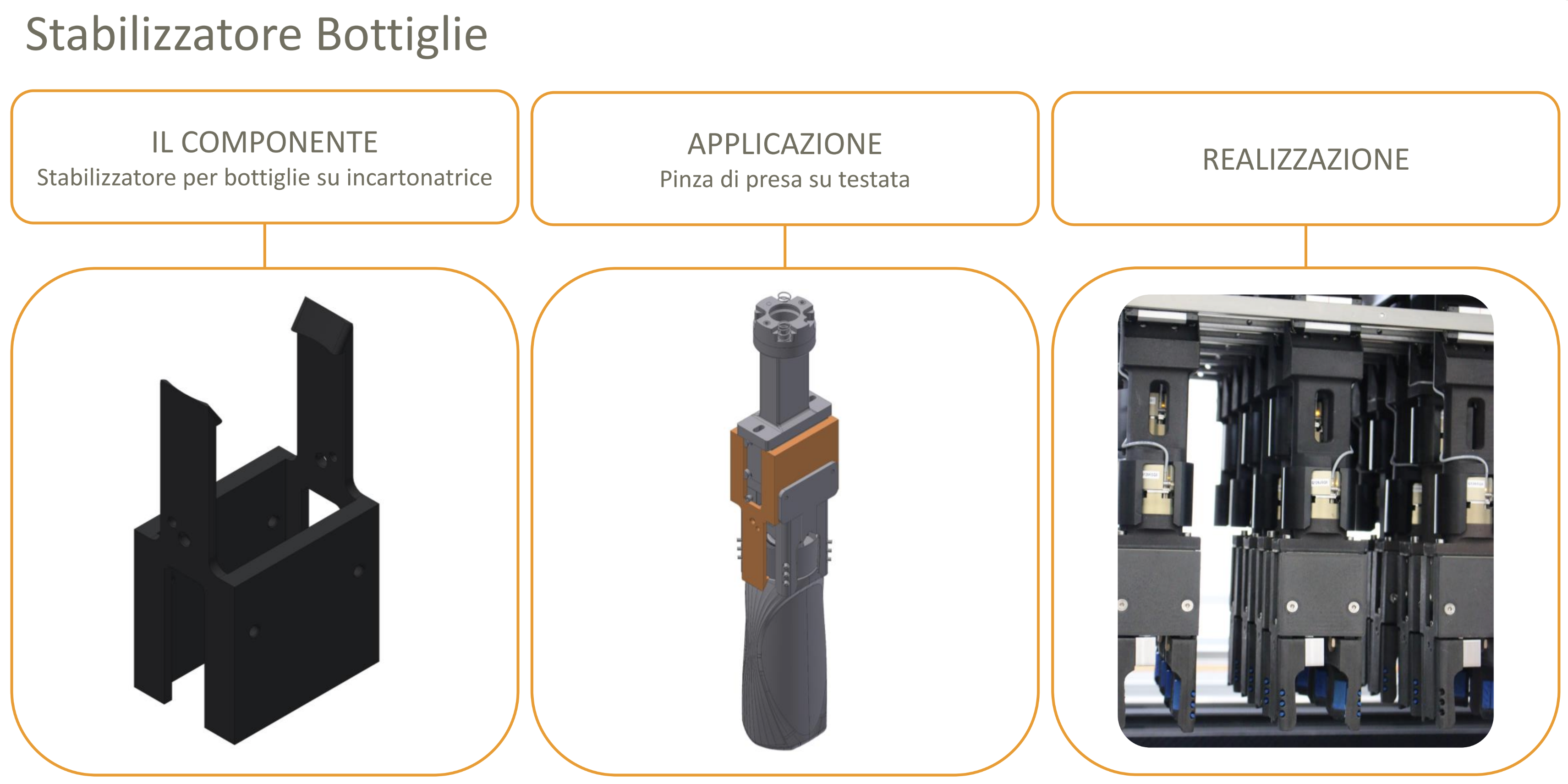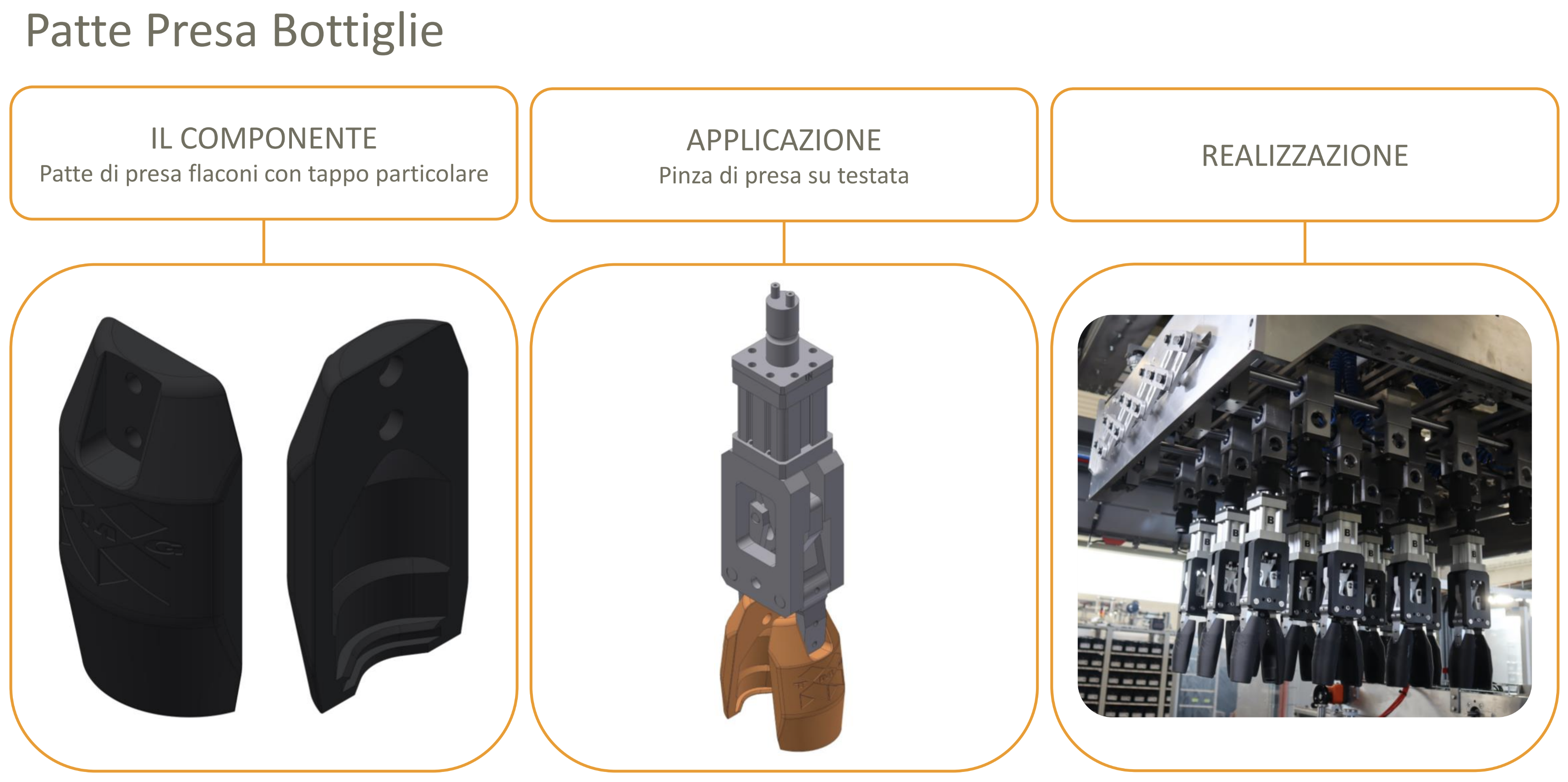 3DZ, un partner esperto
3DZ is a reseller of the best 3D printing and scanning brands with more than a decade of experience. We accompany companies in choosing the best 3D technology for their specific needs.
Contact us: our team is at your disposal
Contact Us