Innovative 3D printed bioengineering solutions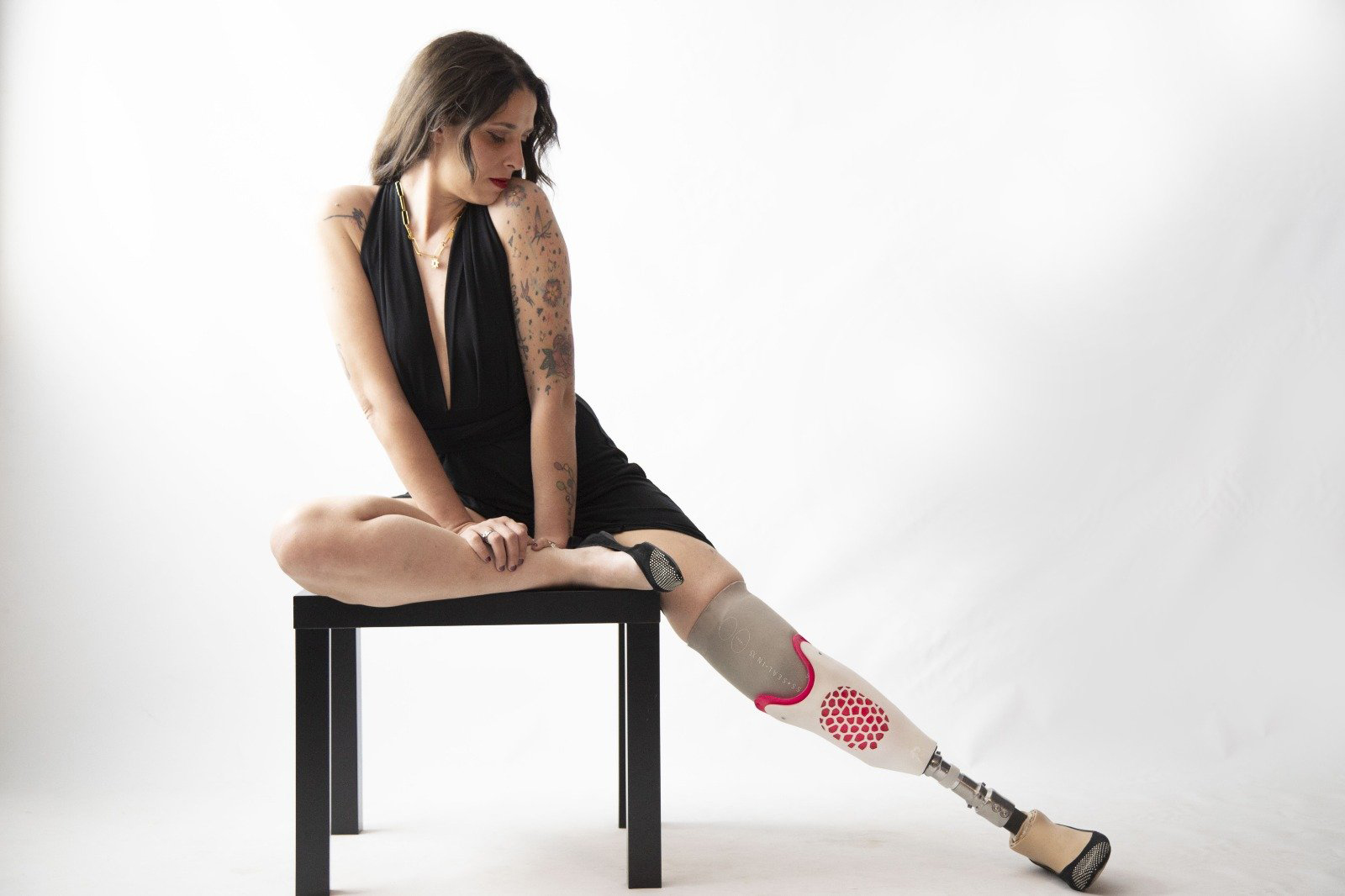 Roga is a company specialized in the manufacture of made to order orthopedic devices.
Roga was established as an orthopedic laboratory in 1992, and specialized in the manufacture of custom orthopedic footwear, still maintaining the craftsmanship necessary to ensure a quality product, but it has also evolved by dealing with bionic technology and obtaining authorization for the application of bionic limbs.
Roga's goal is to create innovative solutions in bioengineering and rehabilitation to help to improve the quality of life of patients. In following this objective, Roga's Research and Development department plays a fundamental role: the team is composed of a biomedical engineer, orthopaedic technicians and physicians.
The need to create unique devices and prostheses, millimetrically accurate and totally personalized for each patient, led them to look for innovative methods and adopt new technologies that could facilitate the achievement of the goal.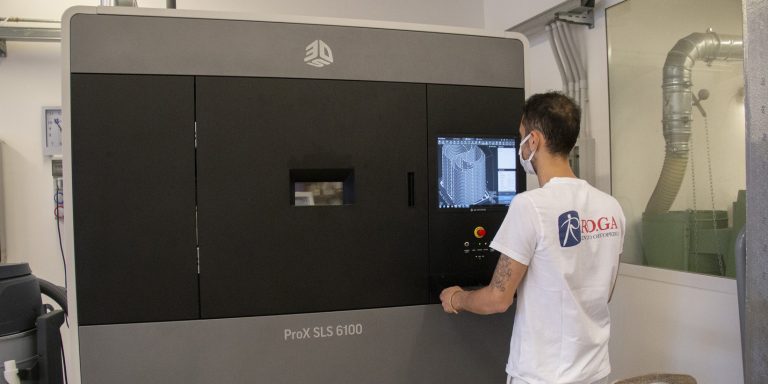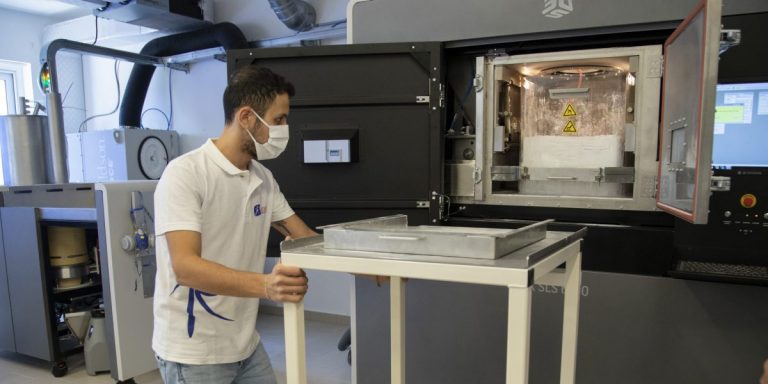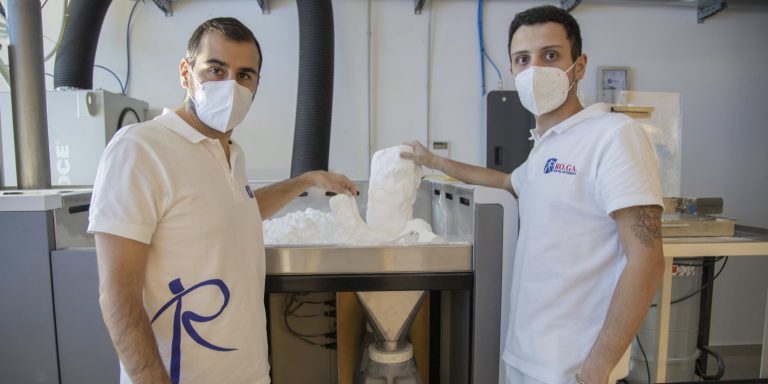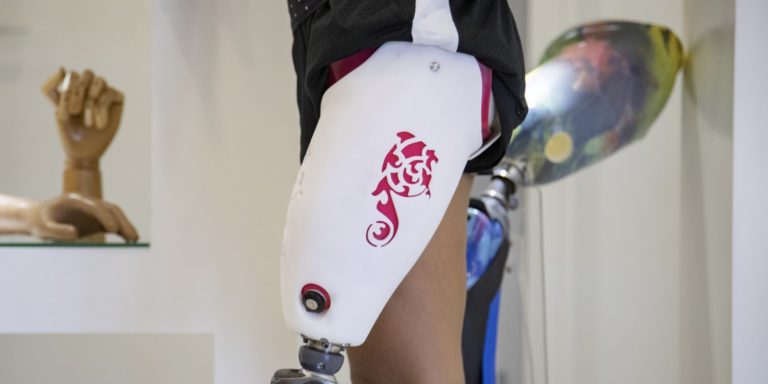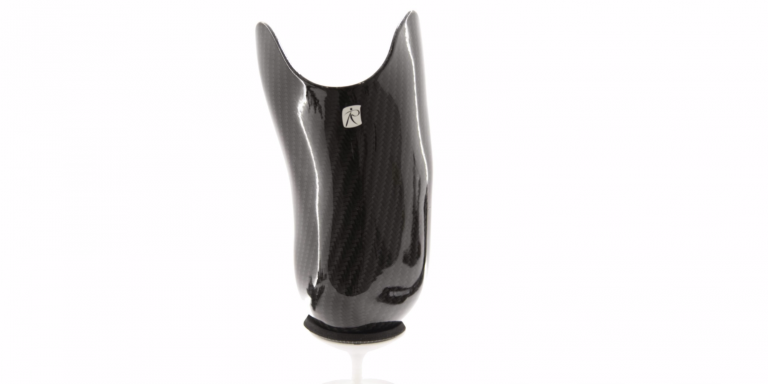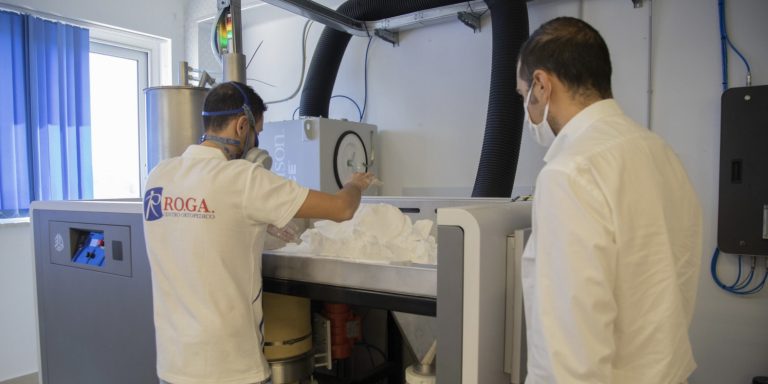 The Problem
In February 2020, the global pandemic situation brought on by Covid-19 suddenly changed the daily lives of all of us.
There was an urgent need for medical Anticovid protection devices, of which there was an extreme shortage. Roga has taken action to meet this need.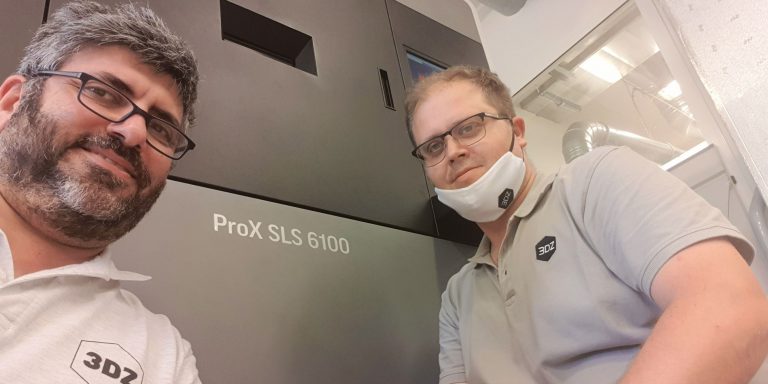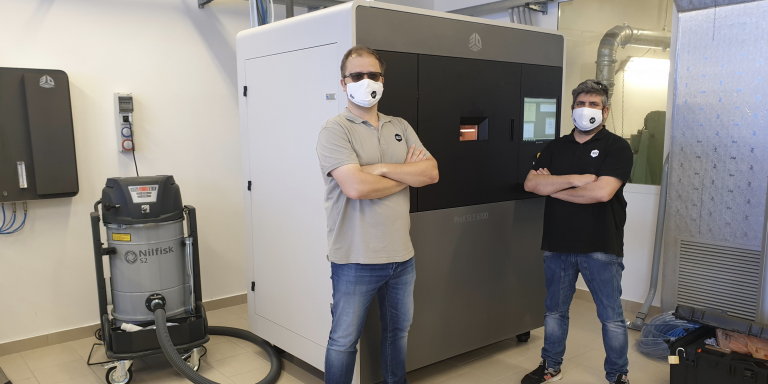 Roga contacted 3DZ, a reseller of top brands of 3D printers and scanners, for advice and to see if 3D printing could help produce elements of these devices more efficiently.
Vincenzo Niro and Fabio Mosca advised the Roga team on the best 3D printing technology and ultimately on the selection of the most suitable machine: a ProX SLS 6100 from 3D Systems.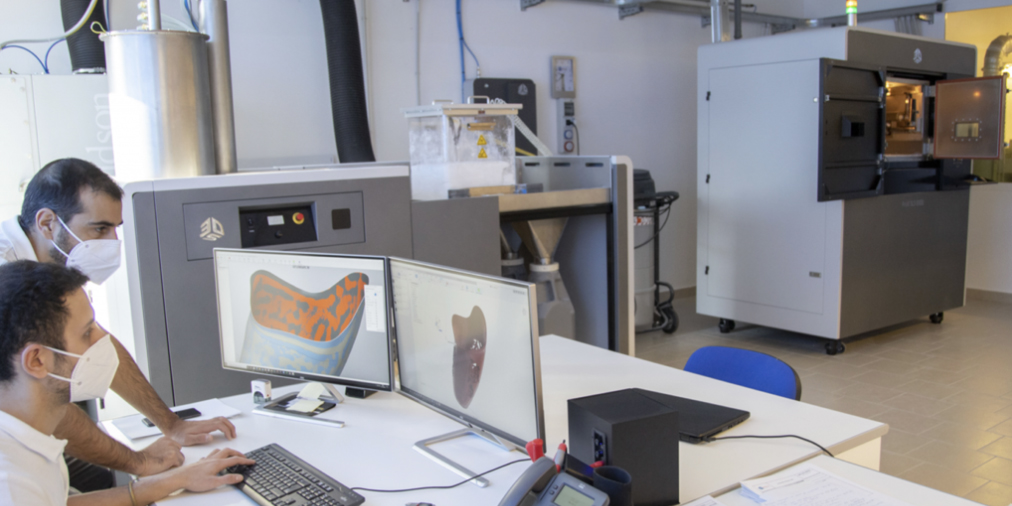 The Solution
The 3D printer, purchased also benefiting from an Inail request for proposals to address the shortage of protective devices, allowed Roga to quickly start the production of supports for facial protection devices that were extremely necessary and in short supply.
But the use of the 3D printer has not been limited to this application: today, the main activity is the production of prostheses, corsets, insoles, etc.
The introduction of this printer in its R&D area allows Roga to develop fully customizable prostheses/hortheses with complex geometries and various sizes, reducing production times and consequently those of delivery. In a sector where one has to deal with delicate situations and stories, being able to offer the patient an aid in a short time is an advantage of the highest value.
ProX SLS 6100, the selective laser sintering printer of choice for this application, produces parts with exceptional mechanical properties, high resolution, high quality surface finishes and edge definition. SLS 3D printing makes it easy to produce even the most complex geometries. The picture of the advantages is completed by the possibility to print with PA 12 material, which, due to its properties, is extremely suitable for use in the biomedical field, autoclavable and USP Class VI certified.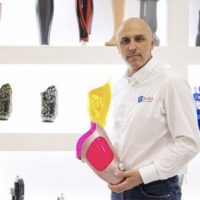 Roga President and Chief Technology Officer, Rosario Gagliano explains:
"The Selective Laser Sintering used by our 3D printer uses an additive manufacturing technology that uses a laser beam to sinter PA12 powder particles.
The advantages of this technology, both compared to traditional techniques and to other types of 3D printers, are many.
Certainly one cannot fail to mention the possibility of being able to create any type of design and be able to customize it according to the preferences of the patients in such a way as to make it unique.
Another advantage is that there is no need for a support structure during the 3D printing process as the non-sintered powder acts as a support (as required in the more common FDM technology).
Finally, complex models can be created in one single part, so there is no need to produce smaller parts and then assemble them later. This avoids weak junctions that can cause failures."
Roga's testimony proves the adaptability of 3D printing. With additive manufacturing it is possible to modify one's own production with the highest speed and adapt it to the needs of the moment.
On a single printing plate it is possible to make parts of completely different shapes, thanks to a feature called "nesting" the entire print volume is exploited, thus increasing productivity, but above all it is possible to obtain completely customized finished parts. The advanced 3D Sprint software makes it easy to manage and edit the CAD file, thus helping to speed up the workflow.
3DZ is an expert reseller of the most leading brands of 3D printers and scanners, including 3D Systems printers. 3DZ is present on the market with several locations to offer a timely and widespread service and assistance.
Our printing experts can guide you in choosing the right technology and machine for your needs. You want to learn more about the existing 3D printing applications? 3D printing is widely used in a multitude of industries, including mechanical, automation, jewelry, dental and medical. You want to submit your project and evaluate with us the benefits you can obtain by implementing additive manufacturing?