Products
Formlabs' first self-extinguishing resin for SLA 3D printing
UL-94 V0-certified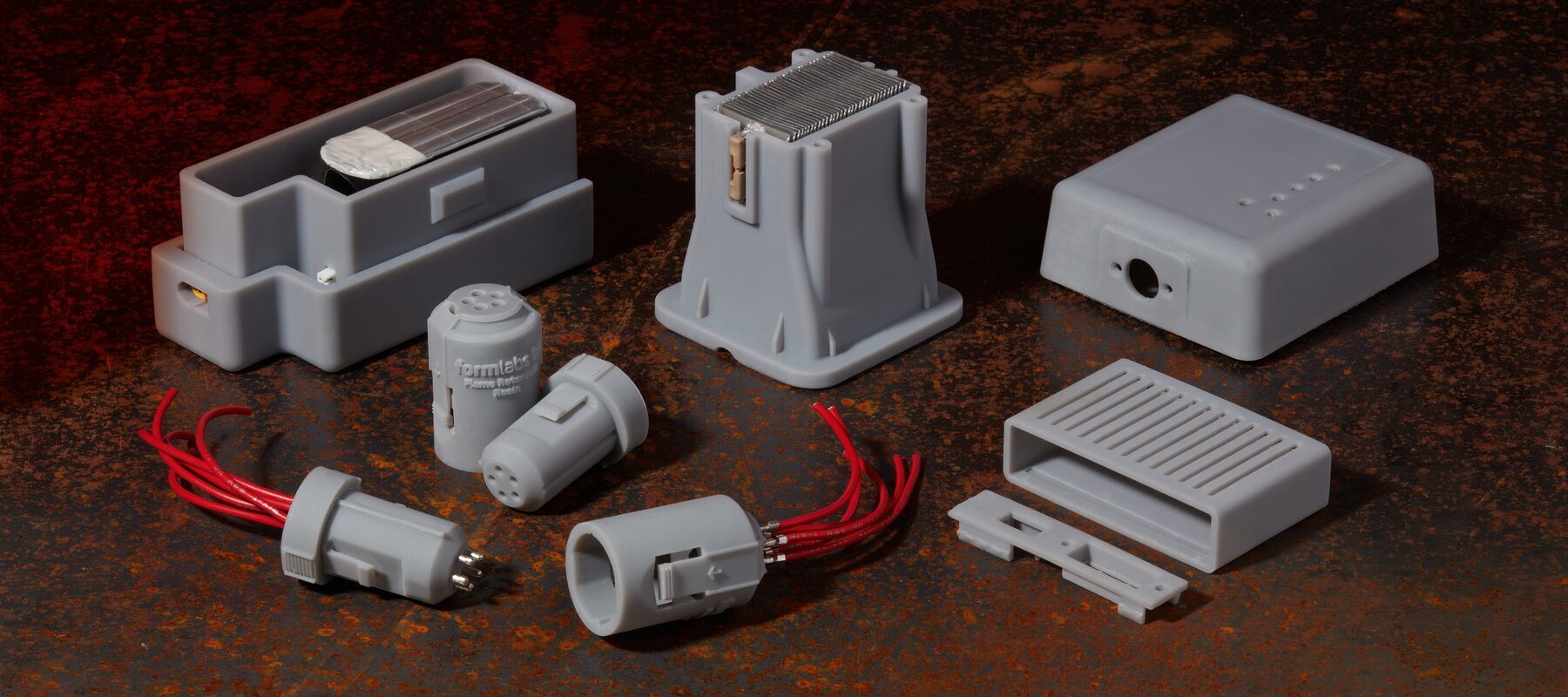 Formlabs' new material opens the door to new possibilities for 3D printing even in industries typically regulated by strict safety regulations.
Flame Retardant Resin from Formlabs is the first self-extinguishing material for SLA 3D printing that can boast V0 UL-94 certification.
This resin is specifically designed, in addition to manufacturing, especially for the aerospace, railway, aviation, automotive, electronics and medical industries and subject to strict regulations.
Combining the speed and design freedom of 3D printing and compliance with the most stringent regulations, Flame Retardant Resin paves the way for multiple new applications such as:
Low volumes of production parts for aerospace, aviation, automotive, and medical industries
Manufacturing equipment and supports for environments characterized by high temperatures or near ignition sources
Electronics housings, connector housings and protective covers
High-power electrical applications (e.g., transformer coils and relays)
Maintenance, repair and overhaul applications
Flame Retardant Resin represents a complete solution for the design and production of parts with flame retardant properties that comply with the UL 94 standard.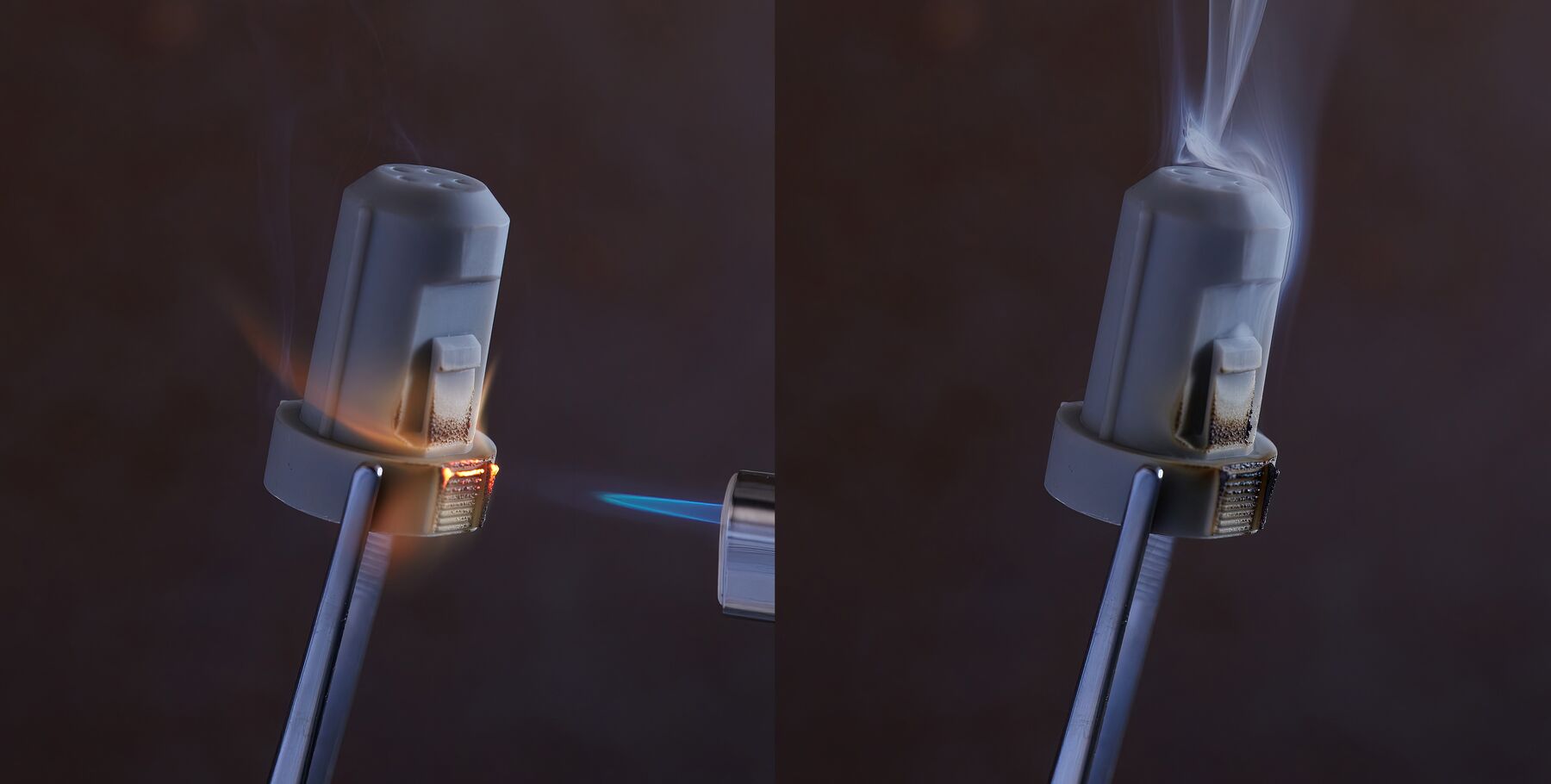 Why 3D print with Flame Retardant Resin?
To combine the advantages of traditional workflows with those of 3D printing  
In the aerospace, electronics, medical device and transportation industries, the demand for flame-retardant parts is not new. In these environments, where the presence of sparks, ether or other combustibles is common, strict regulatory oversight is required to ensure the safety of workplaces and products. The standard certification is UL 94, which attests to the flame retardant properties of plastic materials by determining a material's tendency to extinguish or spread flames once ignited. Formlabs' Flame Retardant Resin holds V0 UL-94 Blue Card certification, passes FAR 25.853(a) tests for flame, smoke and toxicity resistance and is suitable for hazardous environments with open flames, ignition sources and high temperatures.
Flame Retardant Resin makes high-performance applications and certified safe workflows possible, with the accessibility and power of SLA printing
After curing Flame Retardant Resin can be used as a component in a functional assembly and can be drilled to make threads. The parts are rigid and slip resistant, so they are reliable and stable in closed and industrial environments. Parts molded with this material have a smooth, matte surface finish with clean lines and high dimensional accuracy, making them suitable for end use or for use as components in assemblies that require tight tolerances.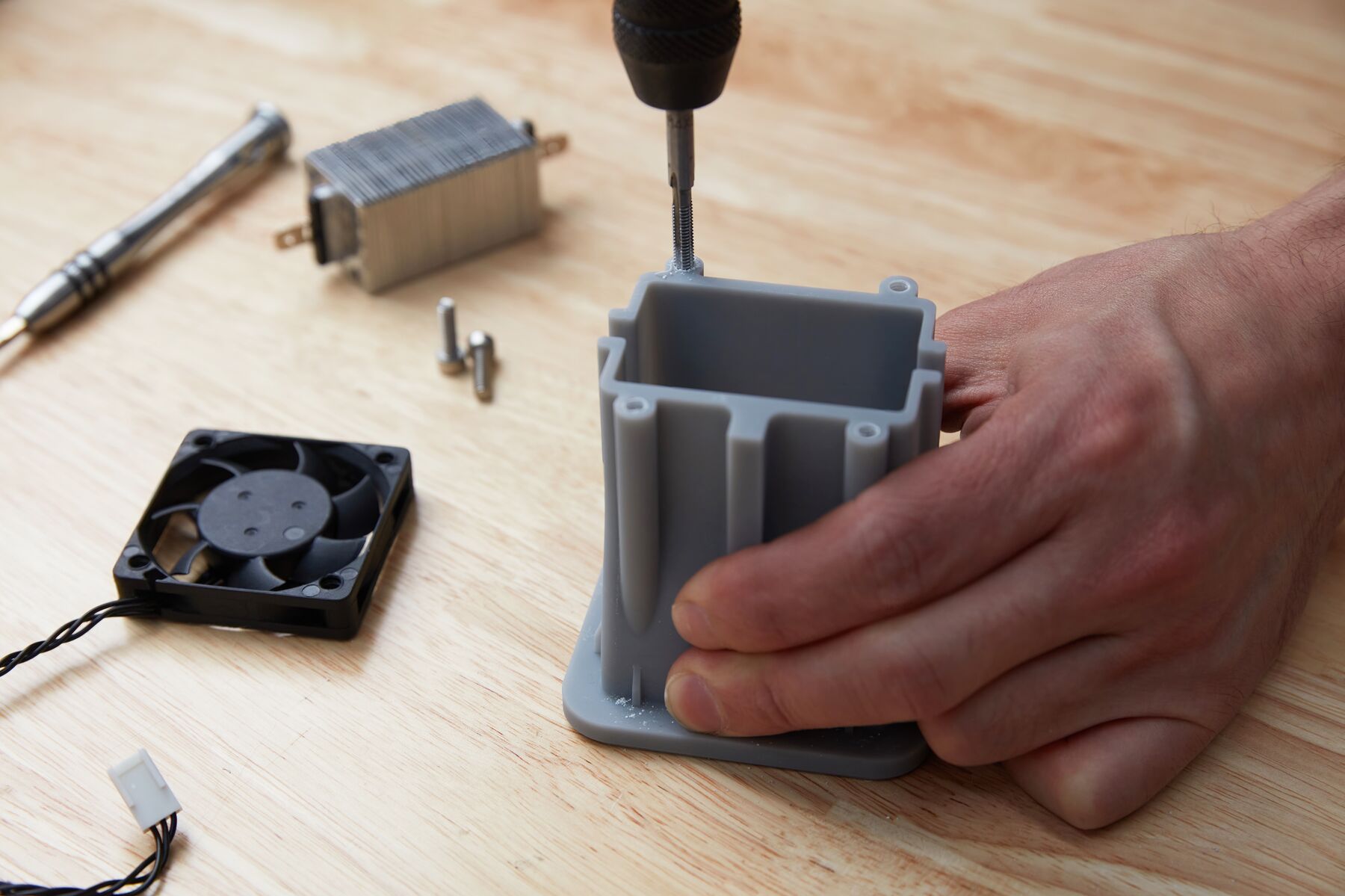 New applications and workflows
Industries such as aerospace and automotive are used to integrating 3D printing into prototyping workflows, but they often have to opt for traditional manufacturing methods in the development phase to meet regulatory requirements for flammability. Common 3D printing materials might have the necessary resistance and heat distortion temperatures to pass functional tests, but not the UL rating. Now, with Flame Retardant Resin, large companies can reduce development time and even use a common material for all teams, from design to maintenance and repair operations to production fasteners.
For many industries, replacement parts for maintenance and repair must be ordered from original part manufacturers to ensure that the product remains compliant. SLA 3D printing has not always been a viable option, despite its low cost per unit and efficiency. With Flame Retardant Resin, SLA 3D printing can finally be used as a solution for on-demand production of replacement parts.
Accelerates time to market
Flame Retardant Resin can simplify the product workflow from design iterations to low-volume production of parts for end use.
By using Flame Retardant Resin and Form 3+ or Form 3L from Formlabs, prototypes can be quickly made from the same material that will be used for functional and environmental testing and low-to-medium volume production. Using a single material for the entire process helps reduce the number of redesigns and allows product managers to focus fully on performance and user feedback. Durable, functional parts that can overcome regulatory hurdles help companies get their products into the hands of consumers and take advantage of market opportunities.
1

Flame Retardant Resin
in short

- for SLA printers
- self-extinguishing with V0 grade according to UL -94 standard (with Blue Card), complies with FAR 25.853 standard and has h͟e͟a͟t͟ ͟r͟e͟s͟i͟s͟t͟a͟n͟c͟e͟ ͟u͟p͟ ͟t͟o͟ ͟1͟1͟2͟º͟C͟.
- Surface finish comparable to an injection molded item.

Ideal for:   
✅ industrial applications including interior parts for the #automotive, #aerospace and #railroad industries,  
✅ parts for #electronics and #medical applications,  
✅ equipment or parts of #production #equipment requiring ℎ𝑖𝑔ℎ ℎ𝑒𝑎𝑡 𝑟𝑒𝑠𝑖𝑠𝑡𝑎𝑛𝑐𝑒 𝑜𝑟 #𝑠𝑒𝑙𝑓-𝑒𝑥𝑡𝑖𝑛𝑔𝑢𝑖𝑠ℎ𝑖𝑛𝑔.

Want to learn more about this material and how it could be useful to you? Contact us and request a meeting with a 3D printing expert from 3DZ. We will walk you through choosing the most appropriate material for your application.

Contact Us