Artec Leo
The first AI-based portable 3D scanner: Wireless freedom, powerful, smart, ideal for every industry
Total wireless freedom, intelligent data capture, easy to use, Artec Leo excels in revolutionary 3D scanning quality, accuracy and speed. Artec Leo is the only professional wireless 3D scanner designed to make scanning as easy and, like using a video camera. With NVIDIA's new integrated Jetson TX2 processor, 5" HD display, and internal battery, it is the ultimate all-in-one 3D scanning solution for fast, accurate, high-quality data acquisition. An 80 fps reconstruction makes Artec Leo the fastest handheld 3D scanner on the market, capable of scanning both small to medium-sized objects and large environments, down to the smallest detail, and being able to view them, in real time, directly on the HD touch screen display. Ideal for any use case and professional sector.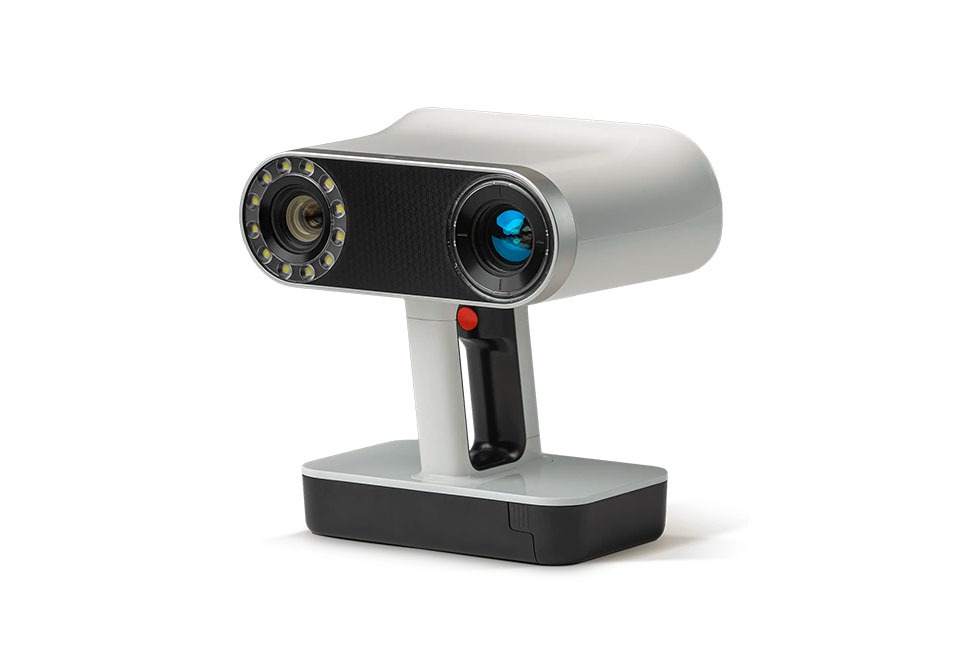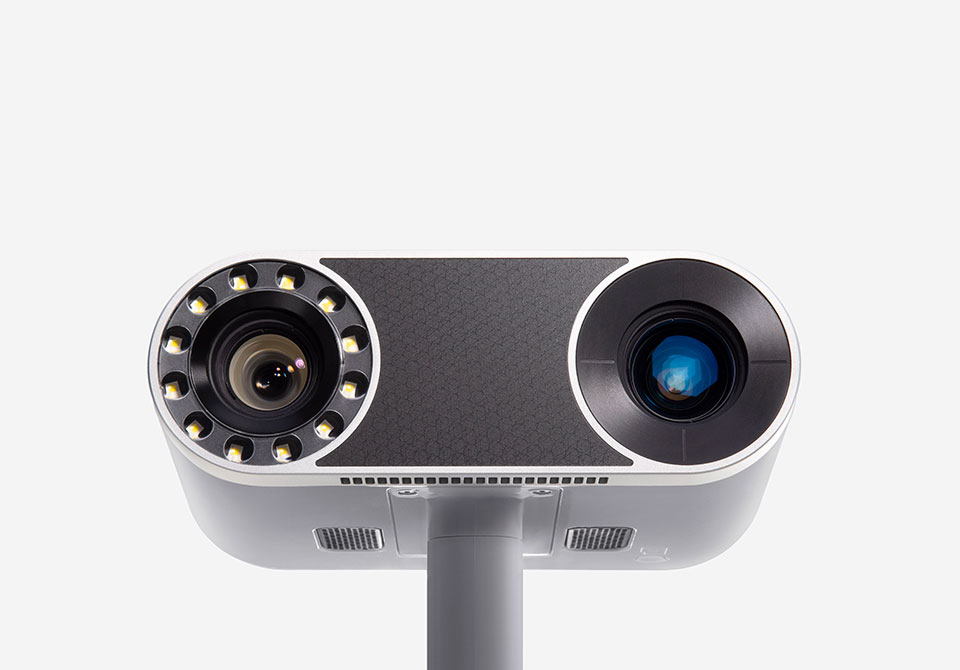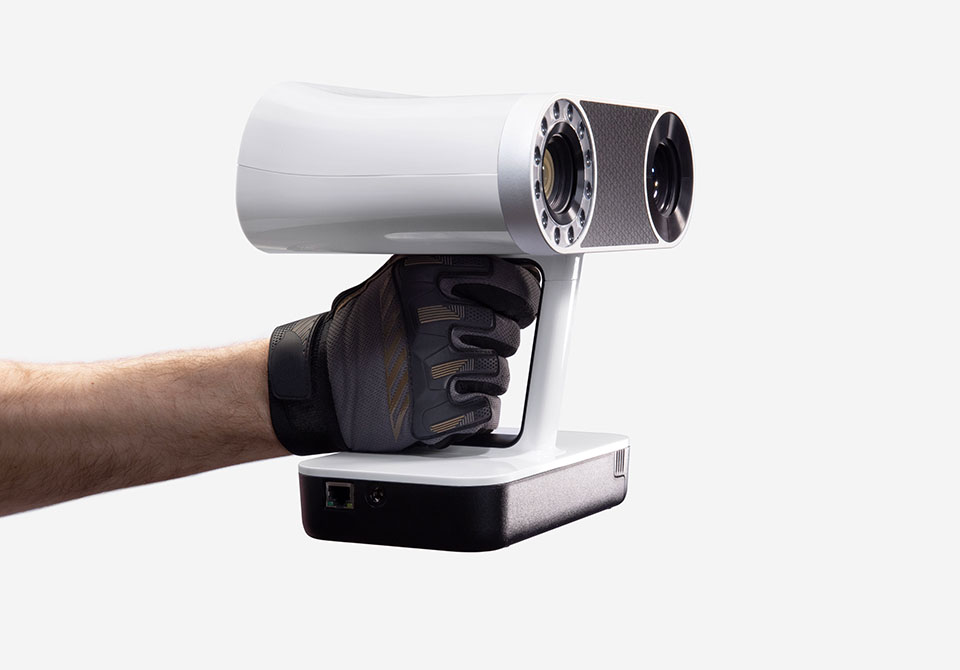 Display 

Built-in touch panel screen 

Processing 

On-board real time processing 

Volume capture zone 

160,000 cm³

3D reconstruction rate, up to 

80 FPS

3D resolution, up to

0.2 mm 

3D point accuracy, up to 

0.1 mm 

Texture resolution 

2.3 mp
3D light source 

VCSEL 

Position sensors 

Built-in 9 DoF inertial system 

Multi-core processing 

NVIDIA Jetson TX2 

Power source 

In-built exchangeable battery 

Connectivity 

Wireless 

Languages 

English, Chinese, French, German, Japanese, Spanish
Reverse engineering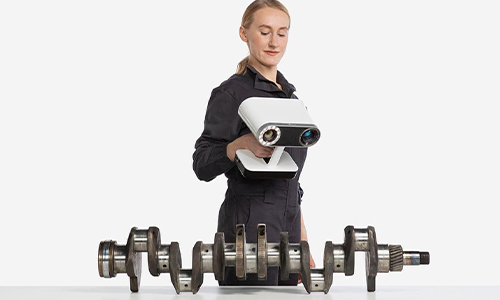 Reverse engineering is critical to multiple industries such as object manufacturing, automotive, aerospace, and even industries such as healthcare more generally. It has a wide range of applications, including product improvement and reconstruction, design refinement, and many others. The ability to effortlessly export 3D models from Artec's 3D scanning and post-processing software to a variety of popular CAD and CAM programs allows users to easily analyze the data and perform additional operations to reverse engineer a product or part of it. 
Quality control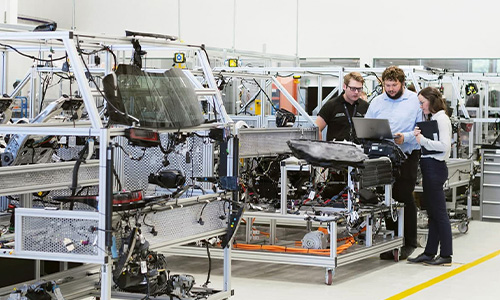 The 3D scanner is now an essential tool for fast, efficient, and accurate quality control, with leading manufacturing companies choosing Artec 3D scanners for quality inspection for unbeatable results, submillimeter data accuracy, portability, scan-to-CAD capabilities, and more. Learn how engineers and inspection professionals use Artec 3D scanning solutions for and inspection and in-depth quality assurance. 
Industry and manufacturing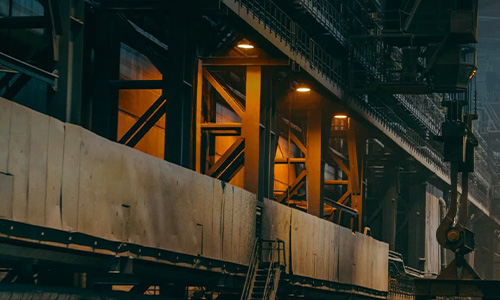 Due to its accuracy, convenience, and speed, 3D scanning has become necessary in many industrial design and manufacturing applications. The Artec range includes powerful 3D scanners for industrial design, reverse engineering, quality control, and many other use cases. With the range of options available and seamless export to widely used CAD and CAM programs, you can be sure that we have the best industrial 3D scanner for your needs.
Healthcare
Portable, safe, and versatile, Artec 3D scanners are widely used by medical and healthcare professionals to create custom orthotics, ergonomic prosthetic devices, back braces, dental implants, measurements, and more. Learn how specialists use their Artec 3D scanners to create an accurate 3D model of a patient's body or body part and discover the details of 3D scanning for medical applications.
Art and design 
With Artec 3D scanners, digitizing real-world objects has never been easier. 3D scanning, whether for art, product design or VR, can be done quickly and accurately, without the need for or complex preparations. Artists, graphic designers and anyone involved in 3D modeling or design can rely on our range of scanners for the same ease of use and quality that even the most successful films of our time have benefited from. 
Science and education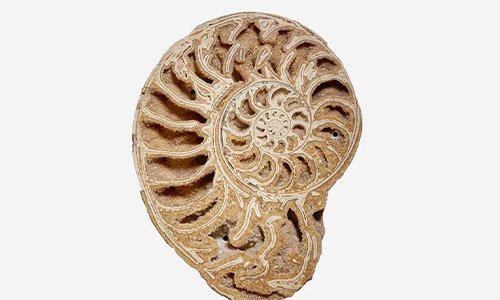 Whether in the classroom, museum, or in the field, Artec 3D scanners and its 3D scanning software are used by science and education professionals around the world to discover, preserve, and explore historical artifacts, reconstruct crime scenes, study extinct animal species or entire civilizations, and more. Learn how portable 3D scanning solutions are being used in these fields to collect highly accurate, high-quality 3D scan data. 
Artec Studio
Versatile and reliable software, based on the integration of Artec Studio and Artec Cloud, it allows users to scan directly to the cloud, remotely control the scanner, and create their own functionality with a dedicated API and SDK. Artec Studio's transformative features offer an accelerated workflow in which Leo speeds up the data acquisition process and transfers scan data to Artec Studio for mesh-to-CAD analysis, easy adaptation of primitives, and many other advanced operations.  
Leo does all the hard work: you just point and scan. Real-time scanning suggestions, hybrid "markerless" tracking system, smart scanning modes for faster data processing... these are just a few features that make Leo super easy to use. Just pick it up, point it at what you want to scan, and press the start button. Leo will take care of the rest.
Scan anywhere. No computer. No wires. Always connected to the cloud, Wi-Fi compatible and completely wireless Leo allows you to take large scanning capabilities wherever you need them without the need for a computer. When it comes to 3D scanning of medium and large objects, portability is key. You can walk around the object holding Leo as you would a video camera.
Artec Leo 2022 remains at a stable and optimal temperature throughout the scanning process, while Leo's calibration kit ensures the highest quality at every stage of the process. Up to 0.1 mm 3D point accuracy.
Artec Leo contains high technology, including the NVIDIA® JetsonTM mobile platform, a computer built into the scanner that features the following processors: Quad-core ARM® Cortex®-A57 MPCore CPU and NVIDIA MaxwellTM 1 TFLOPS GPU with 256 NVIDIA® CUDA® Cores. 
Powered by the most energy-efficient integrated NVIDIA Jetson TX2 processor and state-of-the-art algorithms, Leo is among the best wireless scanners in terms of performance, accuracy and durability. A reconstruction rate of 80 frames per second makes Artec Leo the fastest handheld 3D scanner on the market. And for even greater accuracy, the scanner can be moved closer to the object being scanned to detect, like a camera zoom, the most intricate details.
While scanning the object, the 3D preview is built in real time on the touch screen. Simply rotate the 3D model, check if all areas have been captured, and film any missing parts, making scans as easy as filming a video.
For perfect representation of geometry and color, with VCSEL's disruptive light technology, Leo excels in the ability to digitize hard-to-scan textures, adapt to lighting conditions, perform precise mapping, and adjust flash intensity to further improve color capture quality.
Based on the integration of Artec Studio and Artec Cloud, this versatile scanner is even more powerful. The software allows you to scan directly into the cloud, control the scanner remotely, and even create your own functionality with a dedicated API and SDK. Leo is also updated regularly with performance enhancements and stability improvements.
With a capture area of 160,000 cubic cm, it excels at capturing both medium-sized (20-50 cm) and large (50-200 cm) objects and surfaces. When combined with a powerful computer, it can also deal with very large objects (200 cm+) or even entire spaces, such as rooms or crime scenes.
A versatile and comprehensive scanning solution for a wide range of industries and applications. From manufacturing to healthcare, art to design, forensic investigations to e-commerce, Leo helps thousands of businesses and professionals get their work done faster, better and more efficiently.
With its powerful built-in processor and battery, Artec Leo offers total freedom in 3D scanning. Without the need to connect to a computer or power source, you can hold Leo in one hand and walk around freely, scanning the object without the hindrances of wires or additional equipment. Additional batteries can be purchased for unlimited 3D scans during expeditions to remote areas without electricity.
With a built-in battery, touch screen, and wireless connectivity, Artec Leo takes manual 3D scanning to a new level. In addition to complete freedom of movement during scans, it enables streaming video playback to a second screen via Wi-Fi or Ethernet, and allows data to be uploaded at the push of a button. These features, together with a carefully balanced ergonomic design engineered to make 3D scans easy and comfortable, configure the most advanced professional 3D scanner built with ease of use in mind.
The internal accelerometer, gyroscope and compass make Artec Leo the only handheld 3D scanner that can determine its exact position in comparison with its surroundings and allow it to detect the difference between horizontal and vertical surfaces, such as floors and walls.
The scanner can be assembled on a robotic arm or conveyor belt for automated 3D scanning, or synchronized with other devices and used in multiple 3D scanner installations.
The built-in SSD memory offers as much as 256 GB of storage space. Capacity can be expanded by saving an unlimited amount of data to micro SD cards. Ideal for 3D scanning in the field. 
Get a quote
Contact us to get more information and request a quote